What HIM thought, 1990
1990
HIM Magazine 1990

A non-stop tour of Birmingham's nightspots
Photographs by Bill Short and Bryan Derbyshire

When I announced to the office I was going to spend a week's holiday in Birmingham, I got some very odd looks. The general consensus of opinion was I wouldn't last more than a weekend. There is nothing to do in Birmingham, I was told. Well, there is. Lots. And I think I found most of it.

As it was The Nightingale Club's 21st year in existence, it was a great excuse to go and explore. I stayed at The Midland Hotel (thank you George) which is great, apart from the doormen who don't seem to think that the guests should wear leather jackets, as I kept getting stopped every time I went through the front door. But it's highly recommended.

So, just what is there to do in Birmingham? Well, obviously, there was The Nightingale Club, but before I get to that, I'll give you a quick tour of the city. If you're into saunas and health clubs, Birmingham's the place for you. The first one I visited was The Warehouse Health Club, 16 Fleet Street. It consists of a large sauna, weight training where the weights seem to have gone rusty, two lounge areas, and you can get tea, coffee and copies of Gay Times and Him. Spotlessly clean, nice, friendly staff and a nice atmosphere.

The other health club/sauna is The Spartan, which at the moment is in temporary premises at 240 Slade Road, Erdington. Unfortunately, the original Spartan Club was destroyed by an arson attack a few months ago, so at the moment it's housed in temporary premises. They have a small shop selling leather bits and pieces and the usual range of mags. There's a small sauna cabin and a large lounge area with a TV. They seem to have made the best of a bad job by covering all the premises in a blue material. I was told by everybody in the sauna how fabulous the old place was and that with a bit of luck it will be completely rebuilt and refurnished within the next few months.

I think my favourite pub has to be The Jester at Horseferry Circus, a downstairs bar which is friendly, camp and good fun. The staff are friendly and efficient and you can catch up on all the gossip in Birmingham, which there seems to be plenty of. With a lively cross-section of people and the place always seemed to be busy, especially during the day.

The other pub is Partners in Hurst Street. Another downstairs bar, but this one puts cabaret on, and I managed at last to catch up with Dockyard Doris, who I found quite funny and entertaining. The place gets absolutely packed at weekends with a nice young trendy crowd. I felt the bar staff could smile a bit more, but then again, it was Bank Holiday Monday and they'd been on their feet all day. Partners puts on cabaret every Sunday lunch time and is well worth a visit.

There is only one gay-run hotel in Birmingham which is the Oak Leaves Guest House run by Robert Bolton. Situated in a quiet tree-lined mews, it's a large friendly house but is at the present moment undergoing extensive renovations with some of the larger rooms having showers installed. All the rooms are now having wash hand basins and are being upgraded. The day I went over to look round, Robert was running round with plumbers and electricians who were busily renovating the entire hotel.

When it comes to food, I think there is every type of restaurant you could wish for. But I was taken by Stuart, George and Colin to TGI Friday's somewhere in Birmingham and I've no idea where as I was just bundled in a taxi and taken off. It seems that all the taxi drivers know where it is and if JOHN ADDY will excuse me, I have to say it's FAB and MEGA and WELL WORTH A VISIT! The food is brilliant, the cocktails an absolute must and I spent a brilliant Friday afternoon there.

Birmingham is also the home of some wonderful theatres. I went to see "42nd Street" at the Hippodrome — a show that's currently on tour. They're going to Bradford after Birmingham, if you get a chance, go and see this magnificent show. The dancing is superb. Loved it.

Now onto The Nightingale. First of all, congratulations! I don't think there are many gay establishments that have lasted for 21 years. George Bancroft, the General Manager and Frank Phillips, his assistant, made me more than welcome and having been in the club for a whole week and spent a couple of afternoons there helping out, they're very lucky to have such a brilliant staff. Friendly, hardworking and great to get on with.

Recently, some friends of mine from London who normally bop around Heaven on a Saturday night wanted a change and decided to go up to The Nightingale, and they've all assured me they'll be going back. If you're thinking about a weekend away, don't be put off by all those motorways. Birmingham's a great and friendly place, the shops are FAB, it's difficult to get lost (something I'm very good at doing). Some of the architecture is absolutely bloody awful — thank God they're going to pull it down and build something more human. But it has some brilliant museums, churches and parks and believe it or not, it's got more canals than Venice, which are gradually being restored. Go on, give it a try.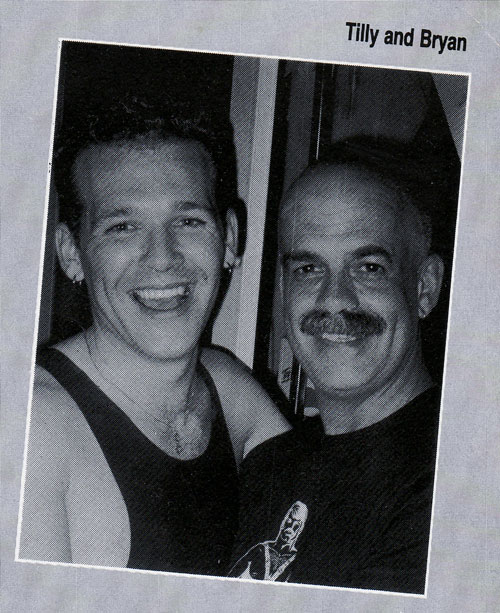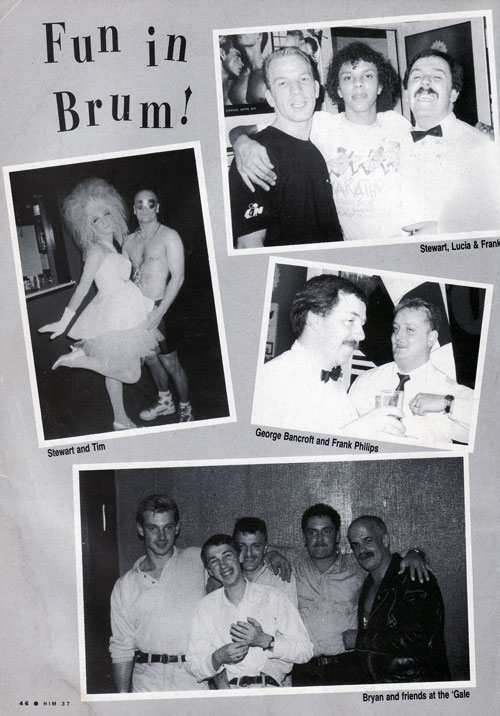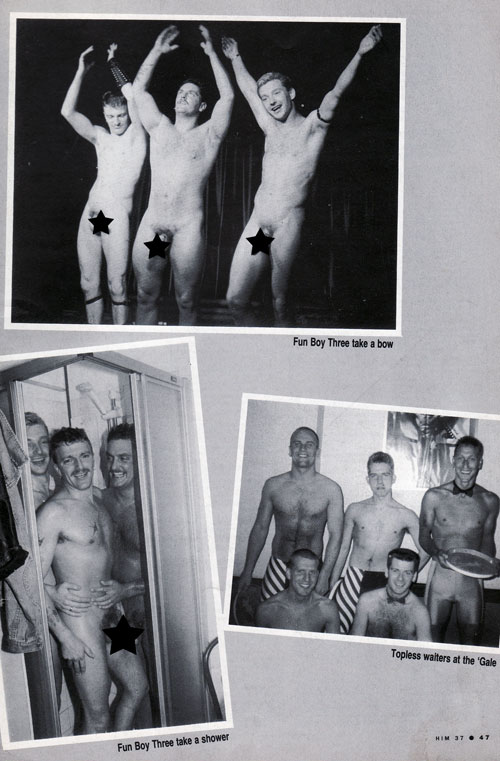 Contributed by: HIM Magazine