Civil Partnerships introduced
December 2005
The Civil Partnership Act 2004 came into force on 5 December 2005 in the UK, the first day couples could give notice of their intention to form a civil partnership. The Civil Partnership Act enables same-sex couples aged 16 and over to obtain legal recognition of their relationship. The first day that couples could normally form a civil partnership was 21 December 2005 in England and Wales. A number of local couples took advantage of the new Act, with 17 couples registered in Birmingham before the end of that year. In the first year, 18,000 lesbian and gay couples registered their civil partnership nationwide, including 238 civil partnerships in the city of Birmingham. Another 108 couples registered during 2007, and 12 in the first quarter of 2008.

In Spring 2006 Birmingham Register Office moved to smart new purpose built and designed premises in Holliday Street.
Birmingham City Council launched a new booklet incorporating information about both civil partnerships and the new premises.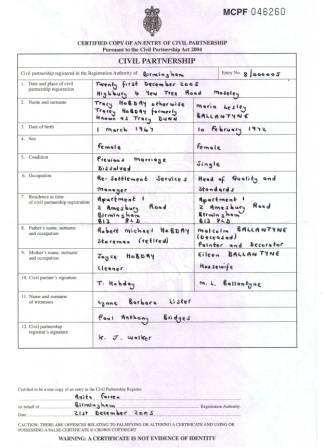 Have a memory of this? Signup today and tell us about it! or login!