'The Killing of Sister George' film released
January 1968
Aldrich's British production The Killing of Sister George released. Adapted from the successful stage play by Frank Marcus, the film deals with the then taboo subject of lesbianism, centring on an actress (Beryl Reid) who is axed from her role as a lovable District Nurse in a television soap opera and consequently loses her much younger lover (Susan George). The film was sufficiently groundbreaking in its representation of lesbian lovemaking to run into censorship difficulties.

Note : Robert Aldrich also directed the classic film 'Whatever Happened to Baby Jane?' (1962) which starred gay icons Bette Davis and Joan Crawford.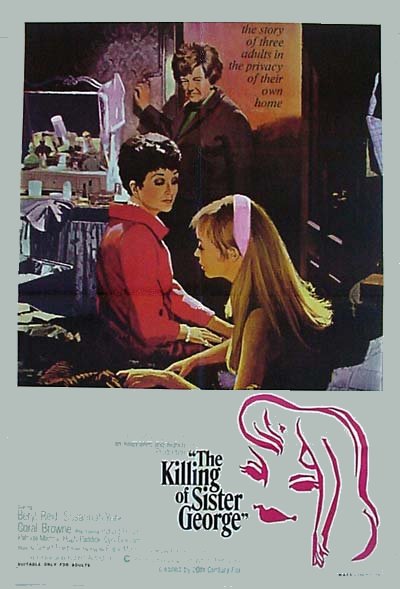 The Killing of Sister George is a 1964 play by Frank Marcus that served as the basis for a 1968 film directed by Robert Aldrich.

Sister George is a beloved character in the popular radio series Applehurst, a nurse who ministers to the medical needs and personal problems of the local villagers. She is portrayed by June Buckridge, who in real life is a gin-guzzling, cigar-chomping, slightly sadistic lesbian, the antithesis of the sweet character she plays. June lives with Alice "Childie" McNaught, a considerably younger dim-witted woman she often verbally and sometimes physically abuses. When June discovers her character is scheduled to be killed, she becomes increasingly impossible to work and live with. Mercy Croft, an executive at the radio station, intercedes in her professional and personal lives supposedly to help, but she actually has an agenda of her own.

Although it is strongly implied that June and Childie are lesbians, and towards the end we discover that Mercy could be as well, this is never explicitly stated. Marcus intended the play to be a farce, not a serious treatment of lesbianism, but because there was so little material about lesbians it became treated as such. It was also to some extent a parody of the killing of Grace Archer in The Archers.

The 1964 West End production starred Beryl Reid as June. Two years later she reprised the role on Broadway in a production directed by Val May. After 7 previews, it opened on October 5, 1966 at the Belasco Theatre and ran for 205 performances. The cast also included Eileen Atkins as Alice and Lally Bowers as Mercy. Beryl Reid won the Tony Award for Best Actress in a Play and the play and Eileen Atkins received nominations.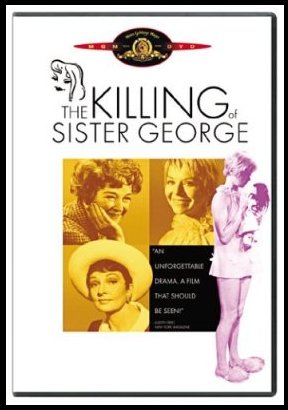 Film adaptation

Lukas Heller wrote the screenplay for the 1968 feature film version directed by Robert Aldrich. Beryl Reid was cast as June (both Bette Davis and Angela Lansbury were considered for the role), with Susannah York as Alice and Coral Browne as Mercy. In the movie Applehurst became a television soap opera, and the lesbian aspects of the plot are much more explicit. The film added many characters and shot many scenes on location, including one in a real-life London lesbian hangout, the Gateways Club. Alice is portrayed as childishly naive rather than dim-witted, and June is more of an alcoholic. In one scene, while under the influence, she molests two novice nuns in a taxi, behavior that precipitates the beginning of the end for Sister George.

Between the time the movie started filming and ended production, the movie industry instituted the new MPAA ratings system. Largely on the basis of a graphic sex scene involving Alice and Mercy (deleted in some TV screenings) Sister George received an X rating, which limited its exposure in theatres and ability to advertise in mainstream newspapers. Aldrich spent $75,000 battling the rating, but his lawsuit was dismissed, and the film died at the box office.

Beryl Reid was nominated for the Golden Globe Award for Best Motion Picture Actress in a Drama. The film is available on DVD. Rarely seen on television, it was broadcast uncut by Turner Classic Movies as part of its June 2007 salute to gay cinema.


Source - Wikipedia

Have a memory of this? Signup today and tell us about it! or login!