Richard Keddie
Richard Keddie, born 1976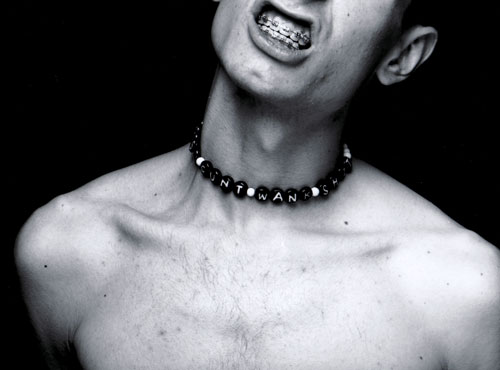 Summary
Richard was born in Newport, Shropshire. He first experienced gay life in Birmingham but moved to London, College of Fashion, in 1995. He moved to Birmingham in November 2003. In this interview he talks about his early experiences of Birmingham, its clubs and also talks about the Dorchester in Wolverhampton. He mentions changes to the city and the lifestyle it offers.


Contents
Fashions - 21-23 60 70 80 90 100 150
Coming Out - 10 20-22
Growing up - 10, 90
The Dorchester Wolverhampton - 20-21-23
Tin Tins - 50-53
Wobble - 40
Drag Queens - 53, 160
Fairy Towers - 180
Rebellion - 170
Sex Clubs - 170
Vivienne Westwood - 20, 80
Moving back to Birmingham - 120
The gay scene - 140
Relationships - 140, 170
Magazines - the Face, ID - 60
Nostalgia, a sense of their being a best 'time' - 100
Settling down - 130, 140, 150
Attitudes to Birmingham - 120, 140
Clubbing 30 40 70
Drugs 51
London scene 100
Alternatives to the scene 130

10 Coming out
Richard says he was 'born gay' - one look at him and it was obvious, no need to say anything to anyone! He never had any bullying or derogatory comments growing up. At school on MUFTI days (out of uniform) when he was about 15 or 16 he turned up in Vivienne Westwood, - the clothes spoke for themselves, and how he carried himself. The clothes were a big façade.
20 First Gay Venue : The Dorchester, Wolverhampton early 90s
21 Richard's first gay venue was the Dorchester in Wolverhampton, where he went with his friend Jason. "I wore a big long coat over a pair of trousers I'd run up - black leatherette with white over locking - some Vivienne Westwood rocking horse shoes with 4-inch platforms - you rocked on them like a boat. I'd also made a pink furry phallus, attached with safety pins in front of my own trousers, and a tee-shirt with another (phallus) from Vivienne Westwood's 'Britain must go Pagan' collection. My hair was probably leopard skin at the time, I used to be a hair model for Vidal Sassoon, I was quite willing for them to do what they liked. I ended up having leopard skin, zebra print, maps of the world, on my head."
22 "I remember getting out of Jason's car, I was quite nervous as I hadn't been to a gay club before and didn't know what to expect, I fell over on the gravel in the car park a couple of times, but got in there and it was great! Then, a lot of people made the effort to dress up, a lot of people like me. I didn't feel I was pushing boundaries, from that night I remember talking to a lot of people, having a dance, feeling quite relaxed, and it started from there, that Saturday night out. Coming from a small county town, I was probably the only gay person there as far as I'm aware."
23 "The Dorchester club was on two floors. You walked into a very big dance floor area, behind which was seating and behind that the café. There was a gallery upstairs, which had lots of seating. It was a very big place. It became quite a gay destination that year. Clone Zone had a shop; there was pumping music, lights, it was very exciting."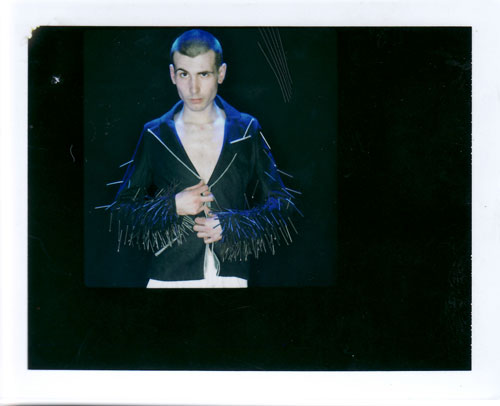 30 Clubbing in Birmingham
In the early 90s Richard's relationship to Birmingham was coming over from Newport to go out on Friday, Saturday through to Sunday early morning to go clubbing.
40 Wobble early 90s
"I did a fashion course at Stafford, and went to 'Wobble' a mixed straight/gay club in the Jewellery Quarter. They called it Wobble because the floor vibrated so much! There was always a big queue; the club was upstairs. It was in a very dark, run down area. I fell in love with it. Great music, people coming up, I forged very good friendships from the first few days, who I am still friends with now. I had some of the best times of my life."
"In the early to mid-nineties, we had a new generation of clubbers, the only generation to take clubbing so seriously, you still see people from then in the same jobs, DJ-ing or club promoting."
50 Tin Tins early 90s
51"It progressed to Tin Tins and a night called 'Hype'. I'd meet up with a few friends, Paul had contacts so we'd walk straight in, we were a bit naughty in relation to substances, but everyone did, and I never overdid it."
52 'It was fab, it had two big cages where guys would always be dancing, dressed very scantily. There was a bar along the side and the staircase was in the middle. The room was packed and the music made it, it was fantastic, it was the kind of music I heard on pirate radio at home in Newport.
53 The people were fab, people made the effort to dress up, it was my first visualisation of drag queens, everyone just let loose and enjoyed themselves."

60 Clubland and style c1995
"I was open to a lot of different types of people - a vast mix of people in Clubland night life. I developed my own style, obviously now I wouldn't be seen dead in a pair of rocking horse shoes, but it was right for the time. Magazines like ID, and The Face, were constantly putting street style in your face, and to have your photos taken for The Face, which a friend of mine and I did, was great.
Style has gone from clubs now, I've stopped going out so much, one of the reasons is, that era's gone, we're not the new generation any more."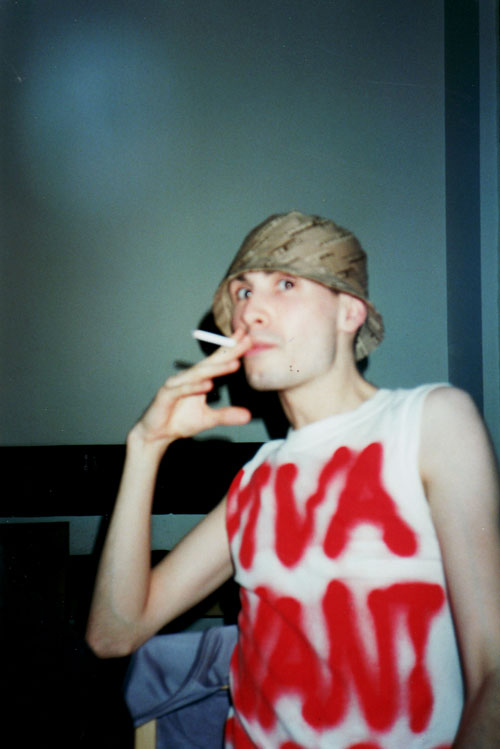 70 Dressing up in clubs
"Flesh was in Manchester, that was super-league, and Vague in Leeds, they were all geared round dressing up, pure fun, but then you grow up. It wasn't the same in London, the dressing up thing was phasing out " (later 90s).
80 Fashion, Vivienne Westwood
"I took on awful jobs like washing up, in Newport, to save the money to go down to Vivienne Westwood in London. At the time, she was the designer for me, most of her stuff I fell in love with and I had to have it. But I'd also make my own clothes, I realised anyone can buy something off a peg, its nice to mix. I'd make trousers, and safety pin jewellery like John Paul Gautier, this thing that connected your ear to your mouth, but I forgot to put the wax in so every time I smiled the pin would dig in and I'd spend the whole night scowling at people, I worked 4 nights a week. She had a sale shop in Conduit St, where I got to know a woman called Jibby Bean, a very eccentric art figure. She took me under her wing, she'd stuff something away for me under the counter - they were kind to me."
90 Expression through clothes c1990
"I expressed myself through clothes. I'd walk round in Stafford, in trousers made from 1970s curtains, If I did that now I'd probably get attacked but then, it was accepted, I find it strange how things have changed for the worse in a short space of time."

100 Fashions in the early 90s
"In the early 90s a lot of people were in creative fields and made their own clothes, and I immersed myself more with creative types. My best friend Polly and I were very close and spurred each other on with what we'd wear next. I'll remember Wobble, Tin Tins as the best times of my life."
110 Living in London
" 'Sex' at Café Paris, Billion Dollar Babes, Tottenham Court YMCA - I got hooked, but within a year and a half of moving away from home, everything started to tone itself down around 1997"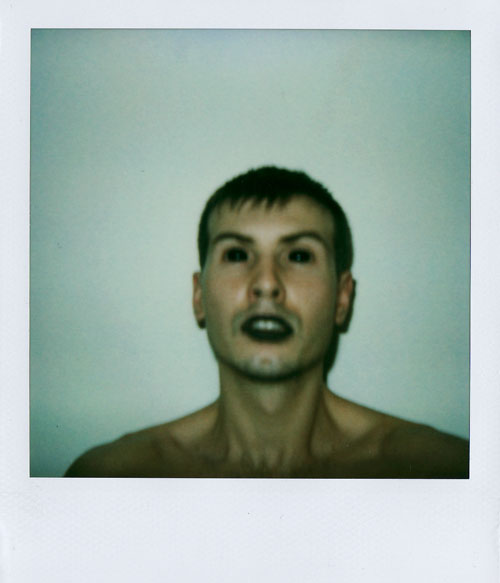 120 Moving back to Birmingham 2003
Richard came back to Birmingham in 2003 to buy a flat with his partner, "I chose Birmingham because I knew it, had friends here, it was a big city and it was affordable. I was twenty-seven when I moved back and Birmingham had completely changed. I had not visited it since 1995. It was a shock, the Bull Ring had gone and the amount of buildings that had gone up, the roads had changed.
130 The Gay Scene 2008 - and alternatives to the scene
"I used the gay scene to help my own business - I run Prowler - so I'm working with the Nightingale, and Rebellion. If I socialise I'll go to Rebellion - Simon's one of my best friends. The Nightingale is full of eighteen year olds or maybe younger. I'm 31 now, I've disassociated myself from it now - I enjoy other things, meals, and so on. I have friends that are fifty, seventy, so we go to the theatre or Symphony Hall - so that occupies me more."
140 Moving House
"I'm moving behind the Rep soon, with my partner. Having a partner has completely changed my outlook. I see myself as staying in Birmingham for some time. Birmingham is growing well culturally, with the Town Hall, Millennium Point, galleries and so on. People realise London is not the be all and end all."
150 His own fashion sense now 2008
"My current style - we all fall into subcultures - I used to be very identifiable, now I'm happy to go round TK Maxx. I'm not led by designer labels any more, why do people need to show off a label on their chests? - everything's fake now - the whole Chav culture.... I'm constantly changing, I'm happy in jeans and a denim jacket now - I don't need to show the world now, how I did then, that I'm creative and outrageous - I've laid it to rest."
160 Creative people
"I'm in contact with more creative people now, e.g. many drag people live in this block or over the road (in 'Fairy Towers). I'm still interested, if they're still pushing themselves, in their forties. I don't want to do it but I'm fascinated."
170 Meeting his partner 2006
"I met my partner in Rebellion, a sex club in Birmingham, we did the deed, I saw him a couple of weeks later, we did the deed and that was it. Then I bumped into him, he's an actor, and he was working in New St and was outside having a cigarette round the corner from my shop, I walked past and he stopped me, and we started talking. It was a slow start, he's from Yardley Wood, he used to live in London but I don't remember seeing him out."
180 Fairy Towers
"I live in Cleveland Towers - 'Fairy Towers' - they have a gay identity due to where they're located,.Gay people find city centre life very accessible. When I moved from London, I wanted to live here in one of these Towers, I knew about them and knew people that lived in them. I am five minutes from everywhere. The Housing Association realise, and can't be biased, but we do have a lot of gay people here, it's safer than Handsworth Wood! Gay people don't mind living in tower blocks! Everything's two minutes away, you can stagger back! Why would gay men want a house? Everything's here, accessibility and they're big flats, I live on the top floor and have a view right across Birmingham - you don't even get that from Beetham Tower opposite where people pay hundreds of thousands. I'm very lucky, the Housing Association have done a good job. There are some conflicts, minor and infrequent abuse from non-gay residents. I'd far rather live here!"